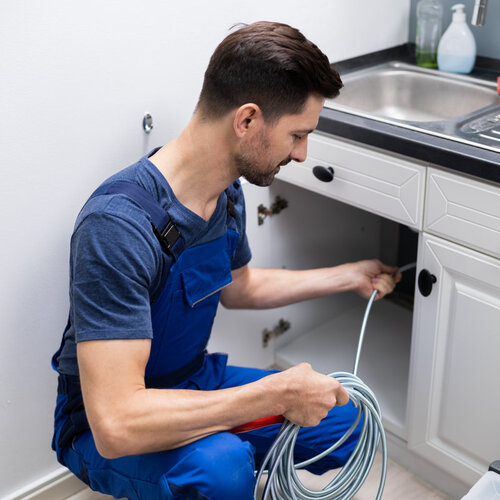 Trust Us to Keep Your Plumbing Moving!
Put your plumbing in our hands! At Kendrick Plumbing and Gas, we offer transparent and competitive pricing on all plumbing solutions, and our team in Atlanta, GA is standing by, ready to help you with immediate plumbing care. Typically, we find that too many homeowners live with poor drains that are partially clogged, dirty, or stinky. As a result, they drain slowly and leave unpleasant odors when not in use. Bad drains are usually the result of years of grime buildup or something too big inside your pipes that's slowing water flow. Unfortunately, those problems are often located deep inside the lines, where it's hard for people to get to. However, our expert plumbing technicians use advanced tools and years of experience to find drain problems quickly and fix them to eliminate smells and performance issues. If you're having trouble with your drains, talk to us about drain cleaning and get a free estimate for your home.
Book an appointment for drain cleaning or any plumbing service by calling 770-590-5006 today!
How Drain Cleaning Works
Professional drain cleaning is one of the best ways to protect your plumbing system and eliminate performance concerns. Pipes are incredibly durable, but they need maintenance at some point, or they begin to smell and stop working as well. When that happens, you should call Kendrick Plumbing and Gas! We'll get to the bottom of the problem and get your drains working perfectly again.
Some common drain issues include:
Root growth
Food particles
Paper products (toilet paper, paper towels, etc.)
Dirt
Mold
Waste
These are some of the things we find in drains that cause partial or complete blockages that bring your plumbing to a halt. But, with the right tools and our certified plumbers, we'll clear your drains and keep them clean for years to come.
When our team arrives, they'll inspect the drains to locate the issues. We frequently use video camera inspections to look deep inside your plumbing system to find out what's wrong. Then, we'll get started clearing and cleaning the drains to get rid of bad smells and slow-moving sinks and showers.
Signs You Need Professional Drain Cleaning
Homeowners in Atlanta, GA can get ahead of plumbing emergencies by looking for obvious signs they need drain cleaning. The earlier you spot them, the less likely you are to experience total clogs, floods, and other severe problems. Here are some things to look for:
Slow-Moving Drains – This is an obvious one. If your drains take too long to empty, you need professional drain cleaning. Unfortunately, slow drains lead to smells and unpleasant films on your sink or bathroom tile. If your drains take a while to empty, call us!
Foul Odors – If you smell something nasty when you go into the bathroom or kitchen, you may have hair, food, or waste stuck in your drains. We can use video equipment to find clogs or snake the drain to clear blocks.
Bubbles – Bubbles coming up from your toilet or sink when it's full of water are another sign of partially-blocked drains.
Frequent Clogs – In addition, if your drains are constantly clogging, then you should get them professionally cleaned. Life's too short to be worried continuously whether water will make it down your drain.
These are some of the common signs you need professional drain cleaning. If you're having any problems with your drains, give us a call and book an appointment with a licensed plumber!
The team at Kendrick Plumbing and Gas is ready to get to you quickly and find practical solutions for your drain challenges. We work with every type of drain, and we're local, so you can trust us for honest recommendations and affordable prices. Homeowners here turn to us when they need quality service and the best available plumbing solutions.
Book an appointment with an expert plumber and ask questions about our plumbing services by calling 770-590-5006!