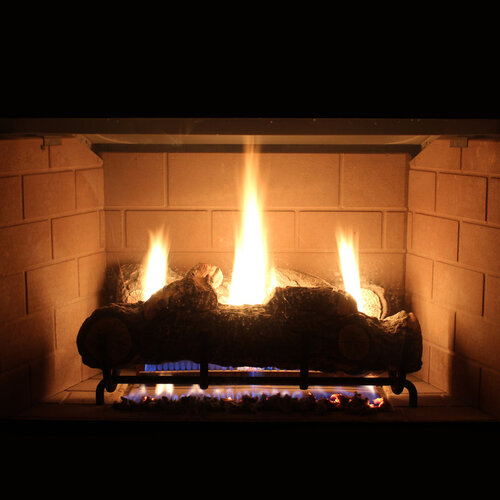 Cozy Fireplace Feature Installation & Repair
Kendrick Plumbing and Gas is one of the leading plumbing companies in Atlanta, GA. We also offer homeowners a variety of gas fireplace solutions to make their homes warm and inviting. Modern gas log installation can transform your fireplace into something much easier to manage. Gas logs look fantastic, burn clean, and require less cleanup than traditional wood fireplaces. We partner with the leading suppliers and manufacturers in the area to bring you the best deals on gas logs and services. Contact us if you need an estimate on a new gas log installation or want to hear more about what we can do.
Book your appointment today by calling 770-590-5006 or ask questions about our gas log services!
The Benefits of Gas Log Installation
Gas logs are the perfect feature for a new or existing gas fireplace. They look fantastic and disburse heat evenly for maximum effect when the fire is on. In addition, gas fireplaces are convenient and safe. It only takes moments for the fire to light and deliver the warmth you need for living areas around your home. They're also incredibly efficient, costing little compared to wood and other fuels.
Choosing the best gas log is essential to any home project. Whether you're installing a new log in an existing gas fireplace or you're making the switch from wood to gas, the team at Kendrick Plumbing and Gas is here to help! We have the best deals on the widest selection of gas logs across Atlanta, GA. If it's something we don't have in stock, our network of leading suppliers makes installation fast and simple. We'll get the parts you need and manage the installation from start to finish.
We're also happy to give you a free estimate on any gas log installation! Talk to us about the size of your fireplace, connection location, and style preferences. Our team will design custom options for your home to help you pick the perfect log. In addition, we have teams of certified gas technicians ready to help you with installation and teach you how to use your new gas fireplace. These are perfect heating and decorative solutions for homes in the area, and we have the best choices you can find.
Call us today at 770-590-5006 to learn more about gas log installation and book an appointment with one of our expert technicians!