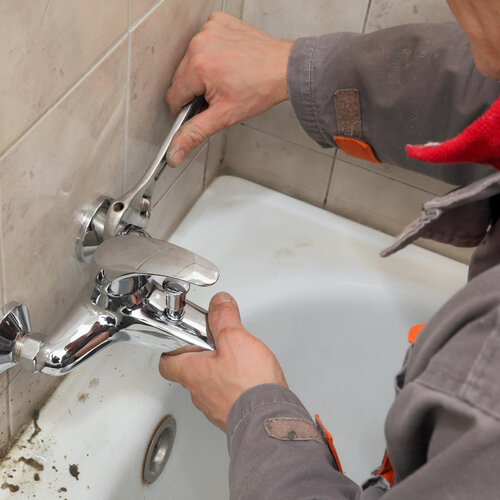 YGet the Best Deals Anywhere from Expert Local Plumbers
Kendrick Plumbing and Gas offers expert faucet repair and installation services across Atlanta, GA. We keep your bathrooms, kitchens, and laundry rooms looking good with plumbing fixtures that work and last for years. With working faucets, you get peace of mind knowing your water supply is fresh and reliable. Faucet upgrades are a fantastic option for people building or renovating homes, and new faucets are an excellent upgrade for people who struggle with leaks. At Kendrick Plumbing and Gas, our team of expert plumbing technicians can fix any faucet issue or work with you on a new faucet installation that fits your budget and design preferences. We've got a range of faucet choices to help you make the best choice regarding performance and style. Learn more about our faucet services and get started today.
Book an appointment with an expert plumber or ask questions about faucet solutions by calling 770-590-5006 today!
New Faucet Installation Services
We provide comprehensive new faucet installation services, including the removal of your old faucet and the installation of the faucet of your choice. Our team will walk you through different models to explain price and performance considerations. If you want something that matches other faucets in your house, we have a large network of suppliers that makes sourcing original parts fast and easy.
People often live with poor water quality and low water pressure as a result of old or aging faucets. New faucets can breathe new life into any kitchen or bathroom. Talk to us about different faucet types and which ones will go best in your house.
Reliable Faucet Repairs
Is your faucet leaking or not functioning the way it should? We deliver expert faucet repair services in Atlanta, GA. A team from Kendrick Plumbing and Gas will get to you quickly to diagnose your issues and get your sinks working again. We're local, so we arrive faster and get you the best possible deals. Our years of experience make faucet repairs simple, and we go the extra mile to save you time and money on every call.
When a technician arrives at your house, they'll inspect the faucet for any obvious signs of damage or erosion. Sometimes, however, they will need to take the faucet apart to find which parts need tightening or replacing.
Skip the higher water bills from leaky faucets and eliminate any water quality concerns from old fixtures. Get better plumbing performance at a great price from us, the leading local plumbing service. Our team is here to cure all of your plumbing headaches!
Schedule an appointment with one of our licensed plumbers or ask about faucet repair or installation by calling 770-590-5006!