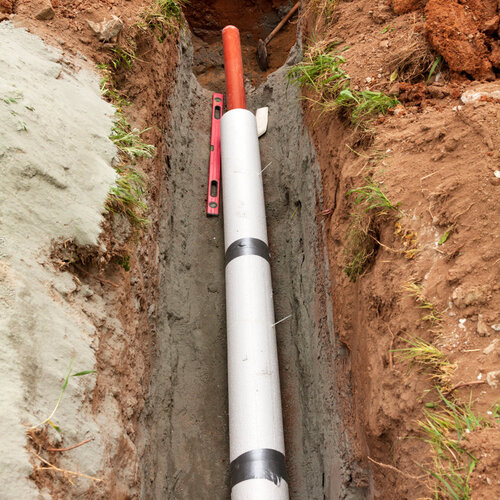 Save Money & Conserve Water with Expert Plumbing Support
The water main is vital to any residential or commercial plumbing system. It's where water comes into the home and funnels into every faucet. Water mains power appliances, pumps, toilets, and sinks. When there are leaks or clogs, it can significantly impact water delivery and quality. At Kendrick Plumbing and Gas, we deal with main line water repairs to keep your home's water clean and on demand. We help homeowners in Atlanta, GA with fast services from expert local plumbers designed to save you time and money with a reliable water source and good prices. If you're experiencing problems with your water pressure, color, taste, or any other issue, call us to get fast plumbing support.
Book an appointment today by calling 770-590-5006!
Expert Main Line Water Repair
One of the main challenges with main line water repair is that leaks and other issues frequently go undetected. The main line runs underground and hooks up to public water lines. When leaks happen, they don't spill into walls or floors. Instead, homeowners should pay attention to the following signs of water line damage:
Low water pressure
High water bills
The water meter running unexpectedly
Dirty water
Water that tastes bad
Roots may grow into your water line, leading to quality issues and blockages. In addition, old pipes tend to deteriorate, which causes leaks and other concerns. When that happens, you need professional main line water repair from Kendrick Plumbing and Gas. We use advanced technology to inspect your main line and find leaks or breaks quickly, avoiding lengthy excavations that tear up large portions of your yard, driveway, or sidewalk.
As the preferred local plumbing service provider, we deliver excellent solutions for homeowners in Atlanta, GA at affordable prices they can trust. Our expert plumbers are certified and ready to give you fantastic customer service day or night. Call us when you need emergency plumbing repair or peace of mind when you suspect a problem with your main line.
Schedule your appointment today by calling 770-590-5006 now! Our team is standing to get you the help you need now!